Some consumers are daunted by the array of window treatments available to choose the finishing touches for their home décor. It's easy to be confused by some of the terms used in the industry. This article, the first in a series of three articles, is the Ultimate Guide to Window Treatments. Below are some simple definitions to help you understand and identify the different window treatment terms and options.
All window treatments fall into two basic categories: hard or soft. Hard window treatments are those made from non-fabric materials, while soft window treatments are those made or assembled from fabric.
Hard Window Treatments
Below are definitions and examples of hard window treatments.
Shades – This window treatment can either go up or down but doesn't tilt. Below are some different examples of popular types of shades.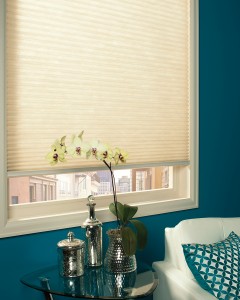 Roman shades – These varieties actually straddle the barrier between hard and soft window treatments because most are made from material. When they are lowered, they present a smooth barrier to light and offer privacy. A pull on the cord draws them up into a series of stacked folds.
Honeycomb shades – These are also known as cellular shades (or sometimes just cell shades). One of their functions is to insulate a room from inclement weather conditions like frigid air and the damaging effects of sunlight. They have fabric-covered open cells that are perfect for diffusing light. Honeycomb shades are quite versatile, as they can be lowered from the top or raised from the bottom and also come in room-darkening varieties for day sleepers.
Blinds – This versatile window treatment has either vertical or horizontal slats or panels that move down, up and across the window panes or doors. They can have either manual or motorized lift systems.

Shutters – Just like on the outside of some homes, indoor shutters are attached to a frame around the parameters of the window. Installing plantation shutters in your home automatically increases its value and adds a timeless, classic appeal to any room. Slats can be flat, but most commonly are elliptical in shape. They can be painted any color to either blend or stand out dramatically.
Soft Window Treatments
Draperies – The main difference between draperies and curtains is that draperies have pleats. In most cases, they open and close using either a manual or a motorized pulley system. Draperies can either hang just above floor level or the material can spill down into a fabric puddle on the floor for a dramatic effect.

Curtains – Less formal than draperies, curtains are shirred and don't typically open and close. Often they are tied back and anchored midway.
Valance – These often combine elements of both soft and hard window treatments, as valances can have a frame, but covered with fabric.
Swag – A swath of material that is draped over a rod or board-mounted at the top of the window treatment.
Cornice – An upholstery-covered structure that adds depth as well as texture to the top of a window treatment.
These are basic terms to know when choosing your window treatments. We will describe the different styles and designs in our next blog post, so please check back or call us to schedule your personal no-cost consultation so we can discuss your many options in greater detail.
Free Shop-At-Home Consultation
---
Our Free in-home consultation provides you with the ability to see various fabrics and colors in your own environment.
Nancy works directly with you to design, measure, and professionally install the perfect window treatments for your home or office.
You never have to leave the comfort of your own home or office, we come to you!
We work exclusively by appointment only, please click below to call or schedule your appointment today.