A valance is a piece of fabric that hangs across the top of a window to add softness, color, and pattern and is attached to a rod with clip rings or a rod pocket. Pleated Valances are more formal and traditional than simple valances. When used alone, a valance will dress up a plain window and add color to complement the rest of the room's décor.
Swags are pieces of fabric loosely slung and draped over a decorative rod or wound over a tieback at each corner of a window frame to add some style and romance to your windows and are usually made using one of three standard methods – Pleated, Shirred, and Flat.
When used with curtains, drapery panels, shutters, blinds, or shades, the valance acts as a final touch to the complete window treatment and gives the window a clean, finished, and professional appearance. Read more
Custom Valances and Swags
Valances and Swags add softness, color, and style to any window. They are beautiful alone or can be layered over our custom-made fabric window treatments, Blinds, Shades, or Plantation Shutters. ​​Valances come in different styles – Board Mounted, Rod Pocket, Pole-Mounted, Kingston, Pleated, Balloon – and can be made from various designer fabrics, including sheer, lace, or linen.
Swags have less structure than valances. In fact, a swag is a longer and wider strip of fabric that drapes across the top of the window. In addition, they can be woven loosely around a rod, or they can drape from one tieback to another. Swags can also feature a "tail" that hangs along the side of the window and even to the floor.
If you are looking for a stylish way to dress up your windows, valances and swags are a great choice. At Curtains Boutique, we specialize in designing, fabricating, and installing custom-made valances and swags.
Contact Us for your Valance and Swag Inquiries
At Curtains Boutique, we look forward to helping you with your Valance and Swag inquiries. Please contact us or give us a call at 201-666-9391 to schedule your no-obligation In-Home Consultation. We look forward to hearing from you!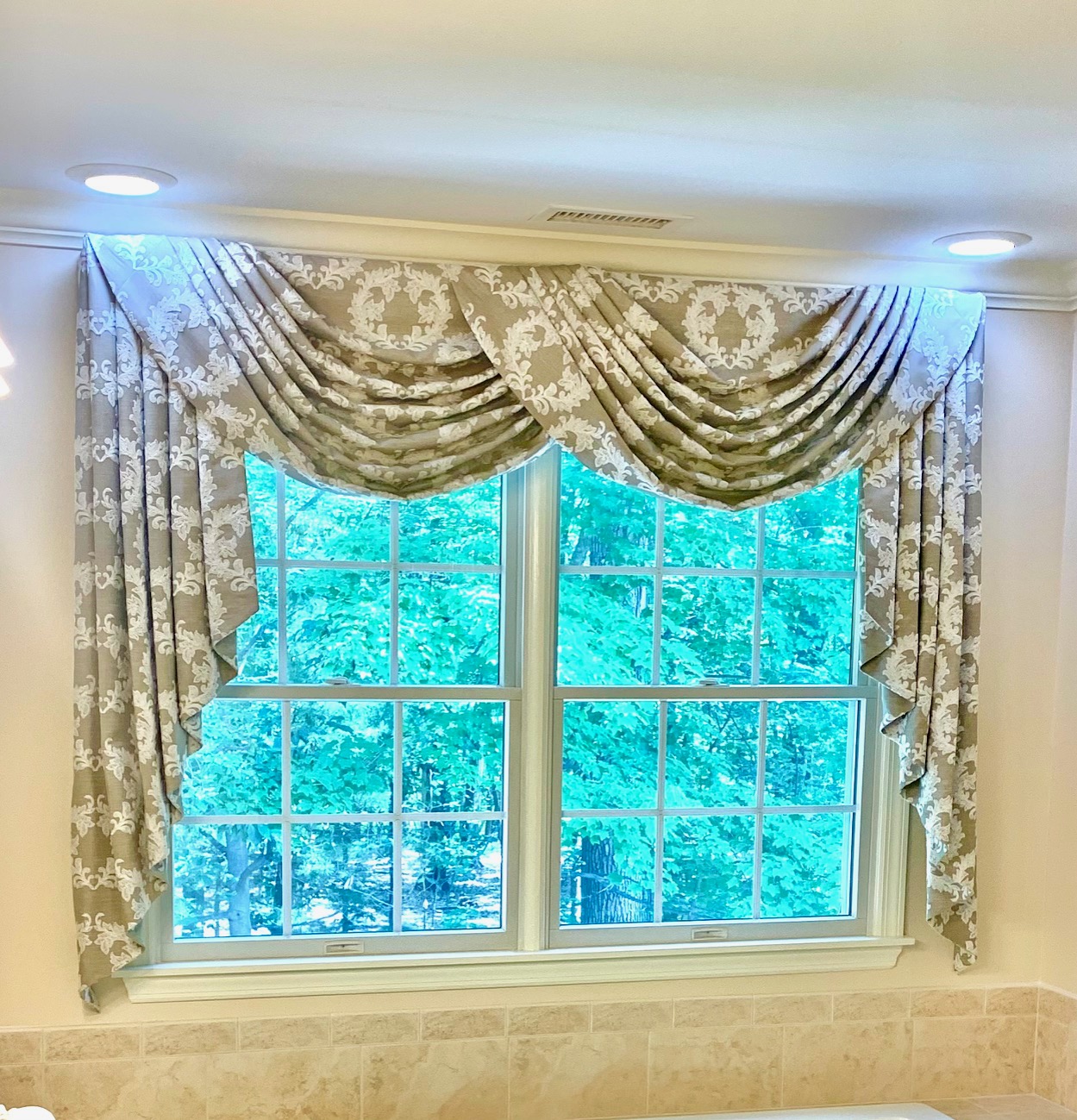 Swags and Jabots using Embroidered Fabric from Unique in Master Bathroom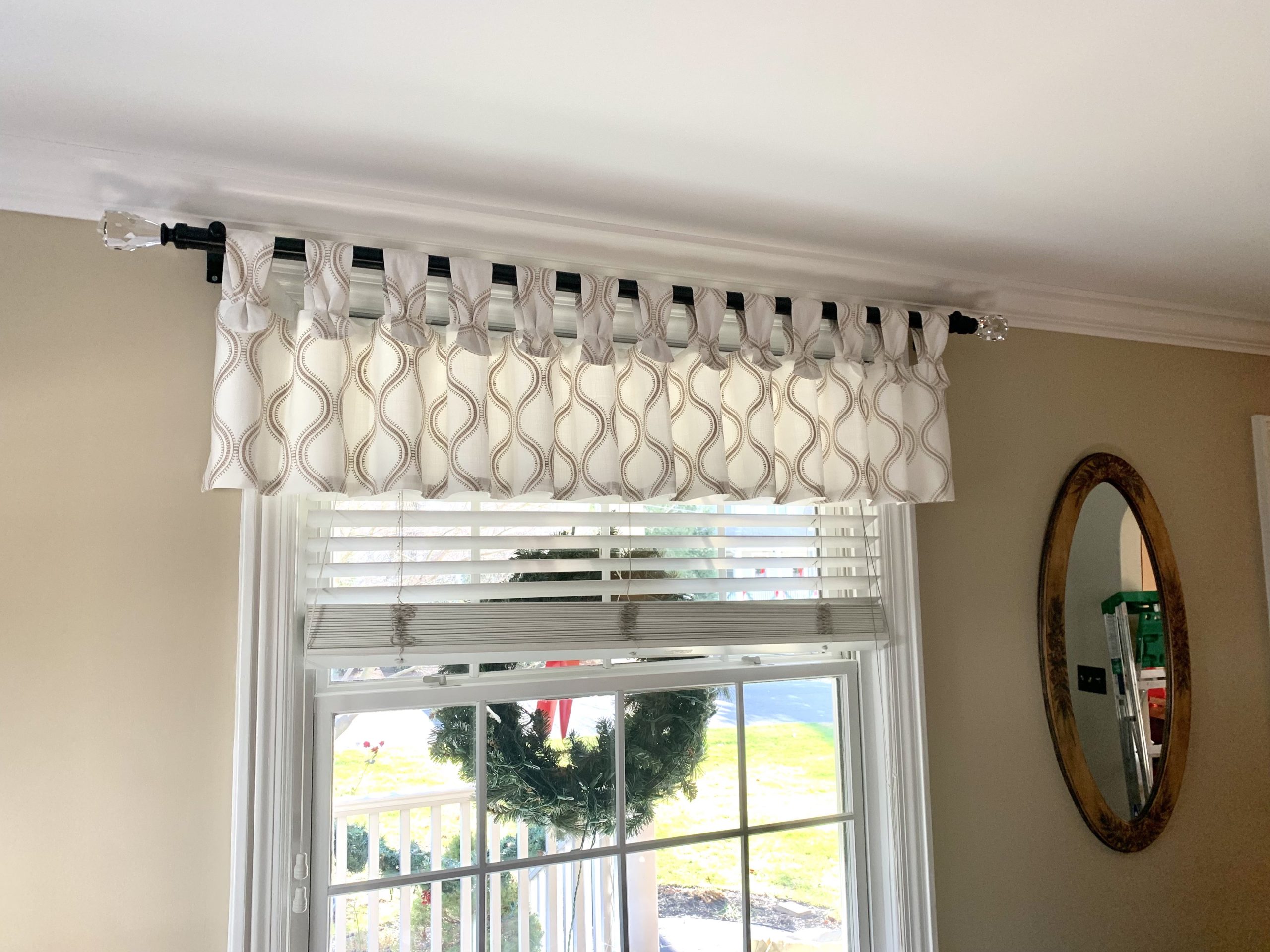 Tab Top Valance on a TRAX Black Metal Rod with Crystal Finials in Living Room

Flat Roman Valance in Navy Blue and White Buffalo Plaid with Matching Window Seat Cushion in Boy's Bedroom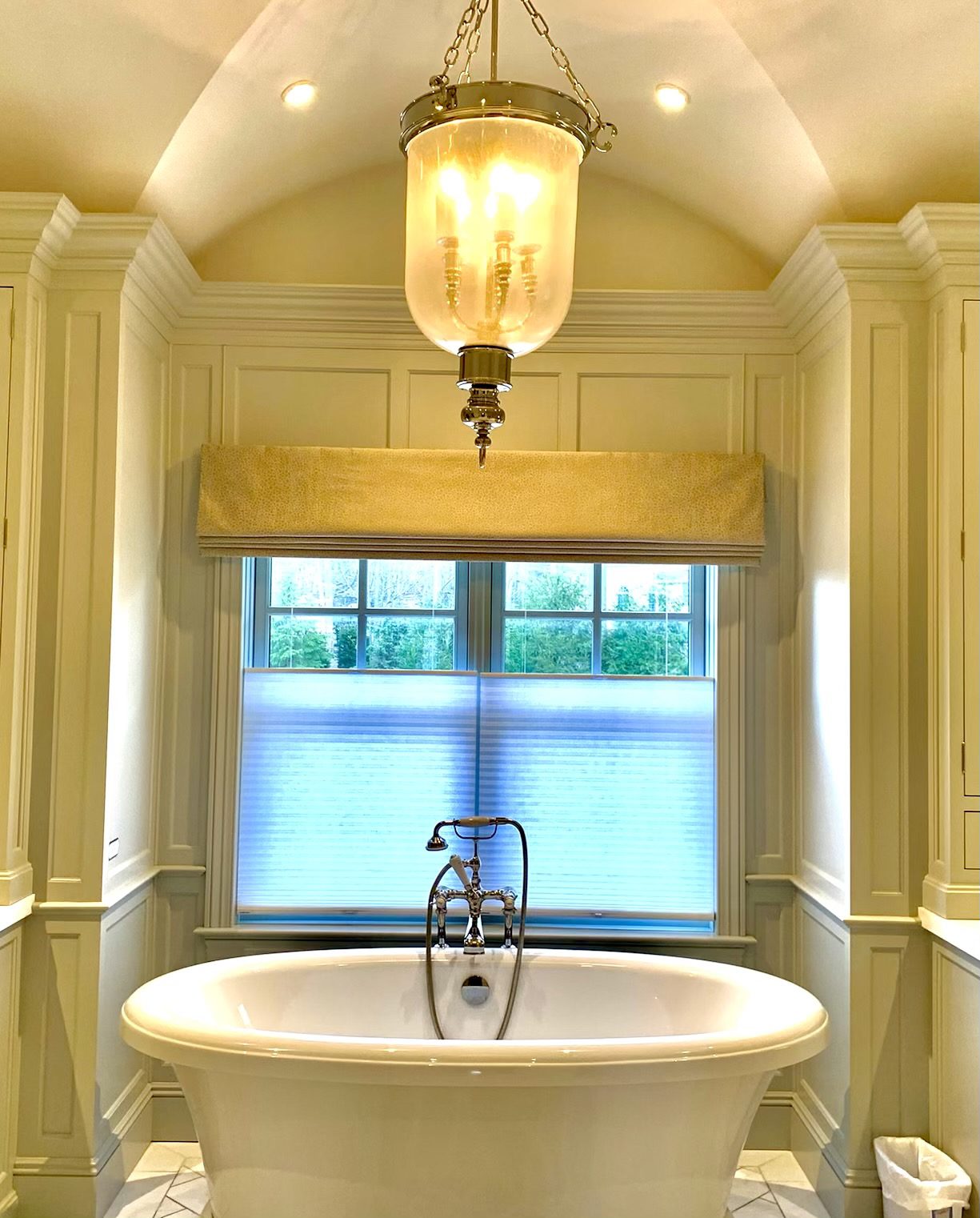 Roman Shade Valance with Top Down/Bottom Up Norman Cellular Shade in Master Bathroom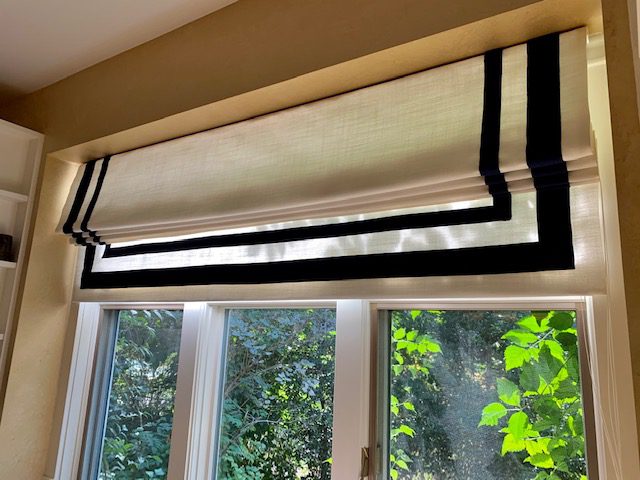 Roman Shade Valance with Navy Blue Double Banding Trim in Kitchen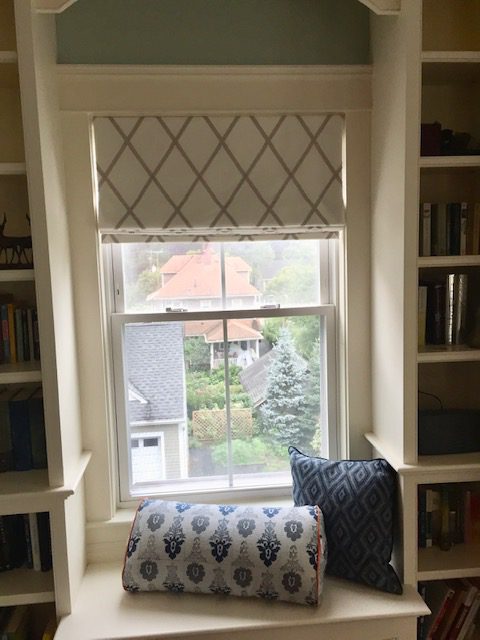 Roman Valance

Box Pleated Valance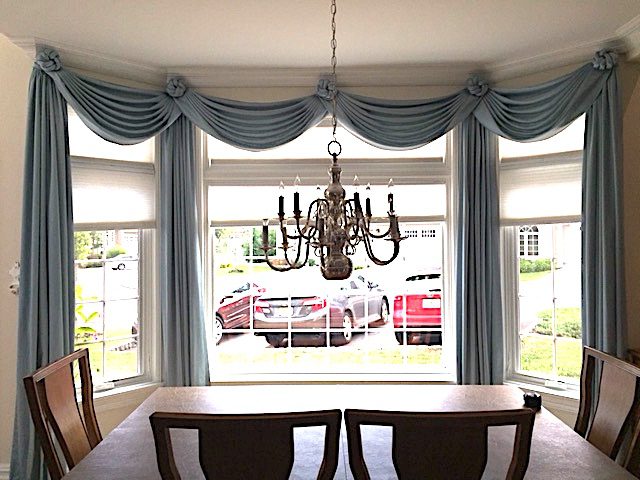 Swags, Knots, & Panels in Dining Room

Silk Swags, Knots, and Panels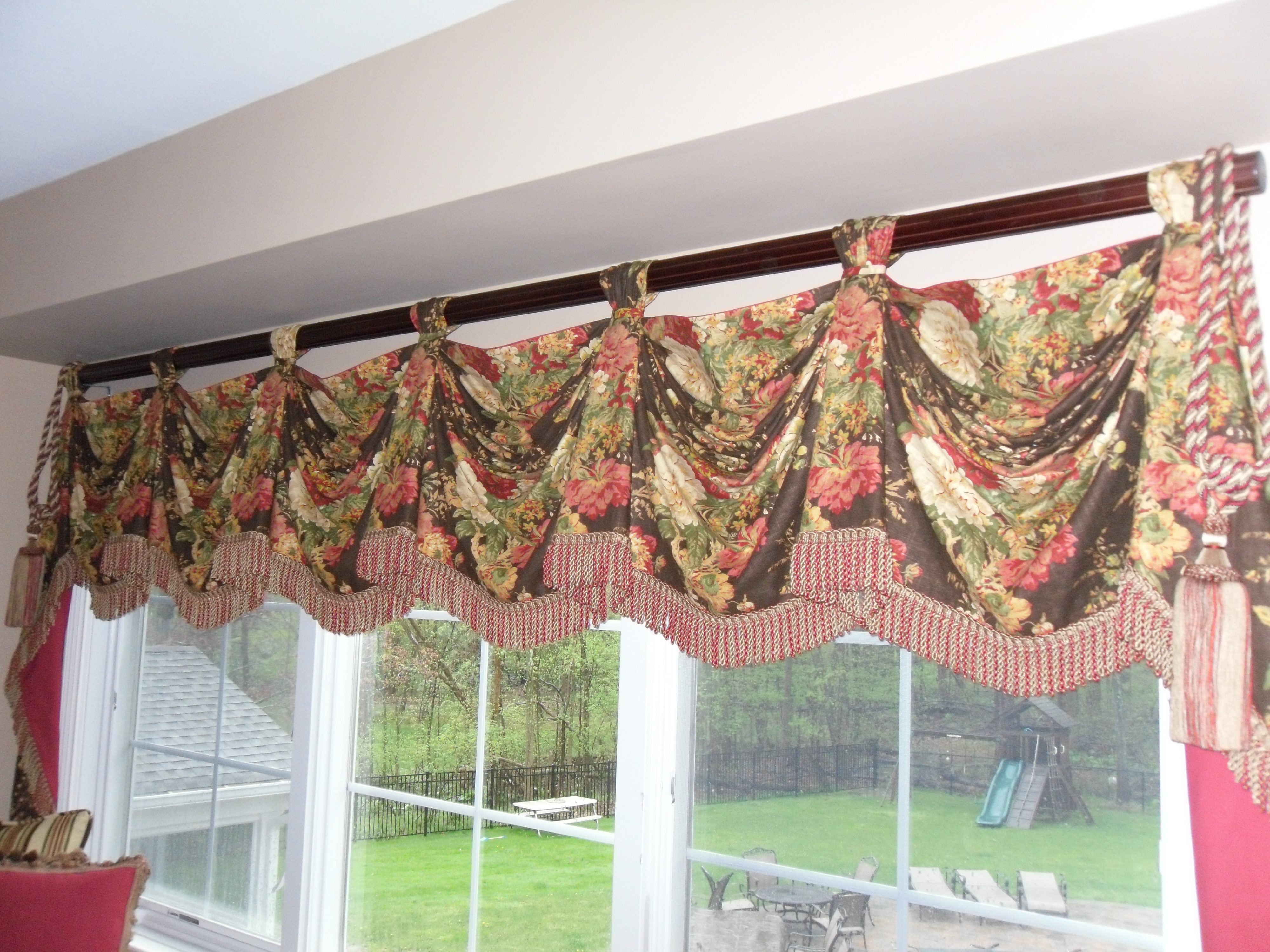 Pole Kingston with Trim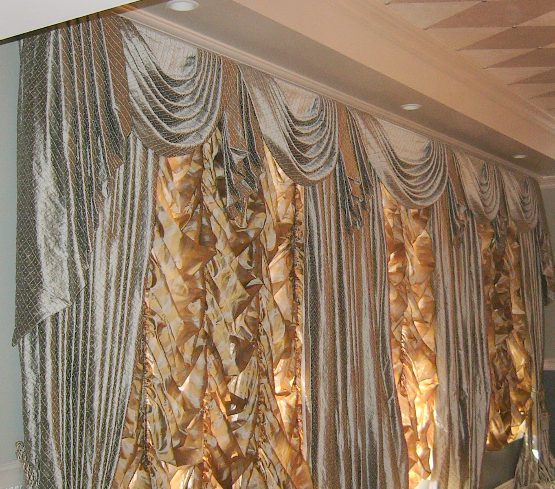 Formal Pleated Swags and Jabots, Panels, and Austrian Shades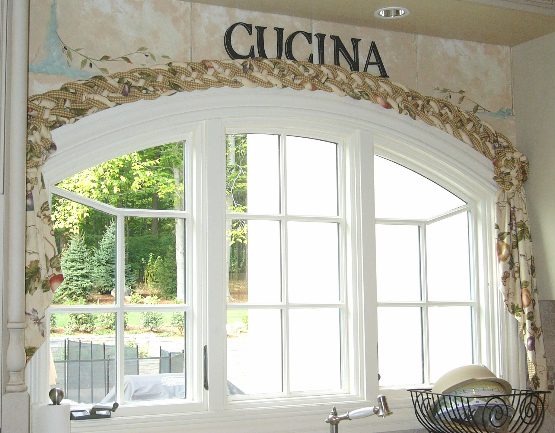 Braided Arch with Knots and Cascades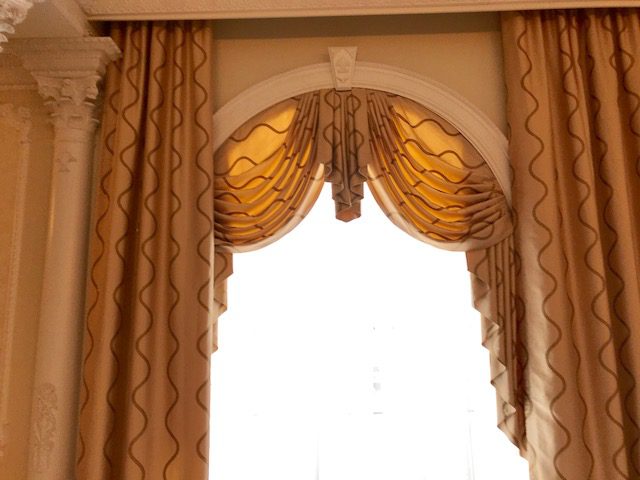 Drapery Panels, Swags & Jabots in Grand Ballroom of Country Club – Single Window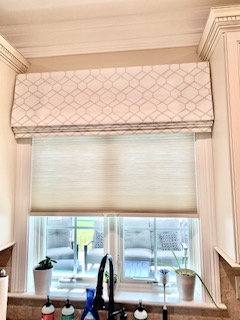 Roman Shade Valance in Kitchen – Fabric From Unique Fine Fabrics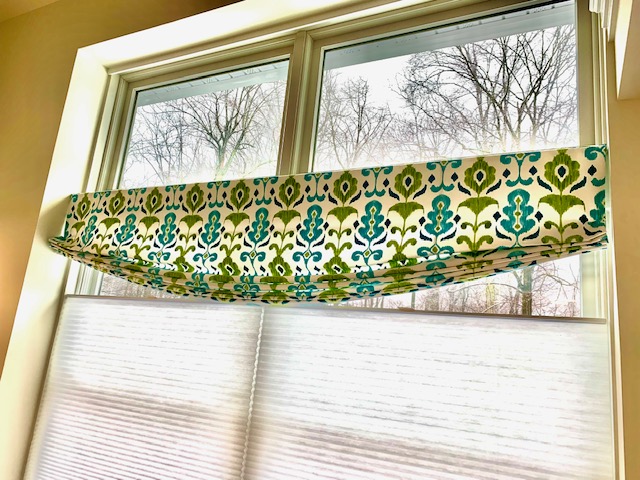 Large Shaped Bottom Valance in Master Bathroom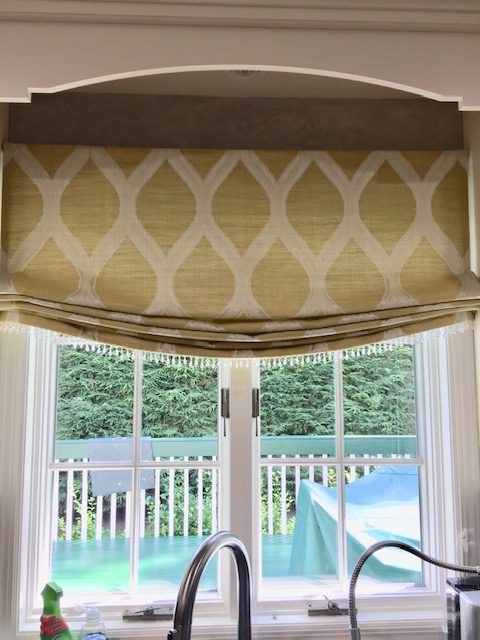 Avanti Valance in Kitchen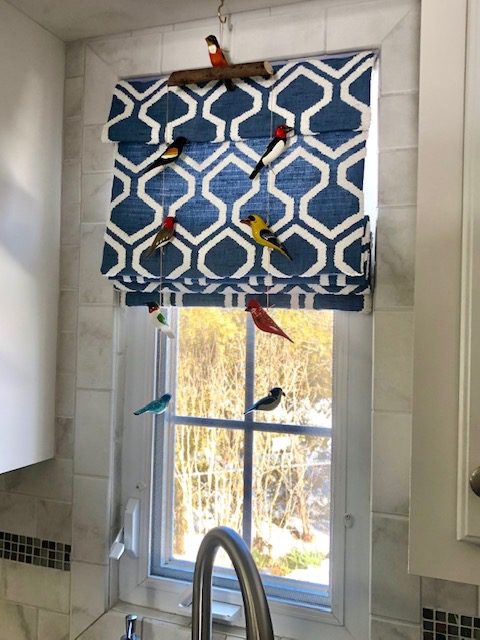 Roman Shade with Soft Valance in Geometric Fabric in Kitchen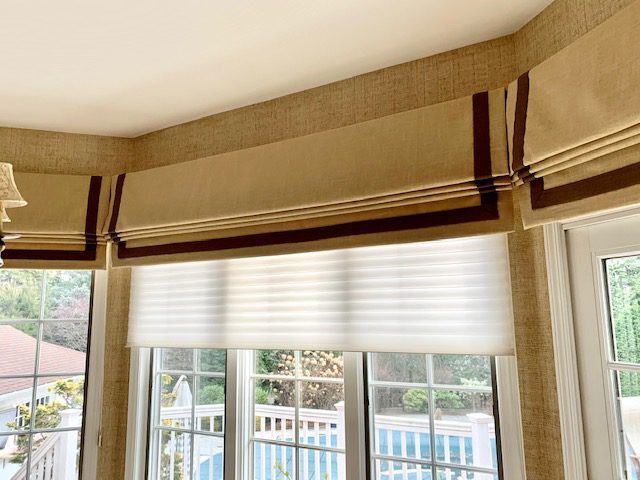 Banded Linen Roman Shade Valances in Kitchen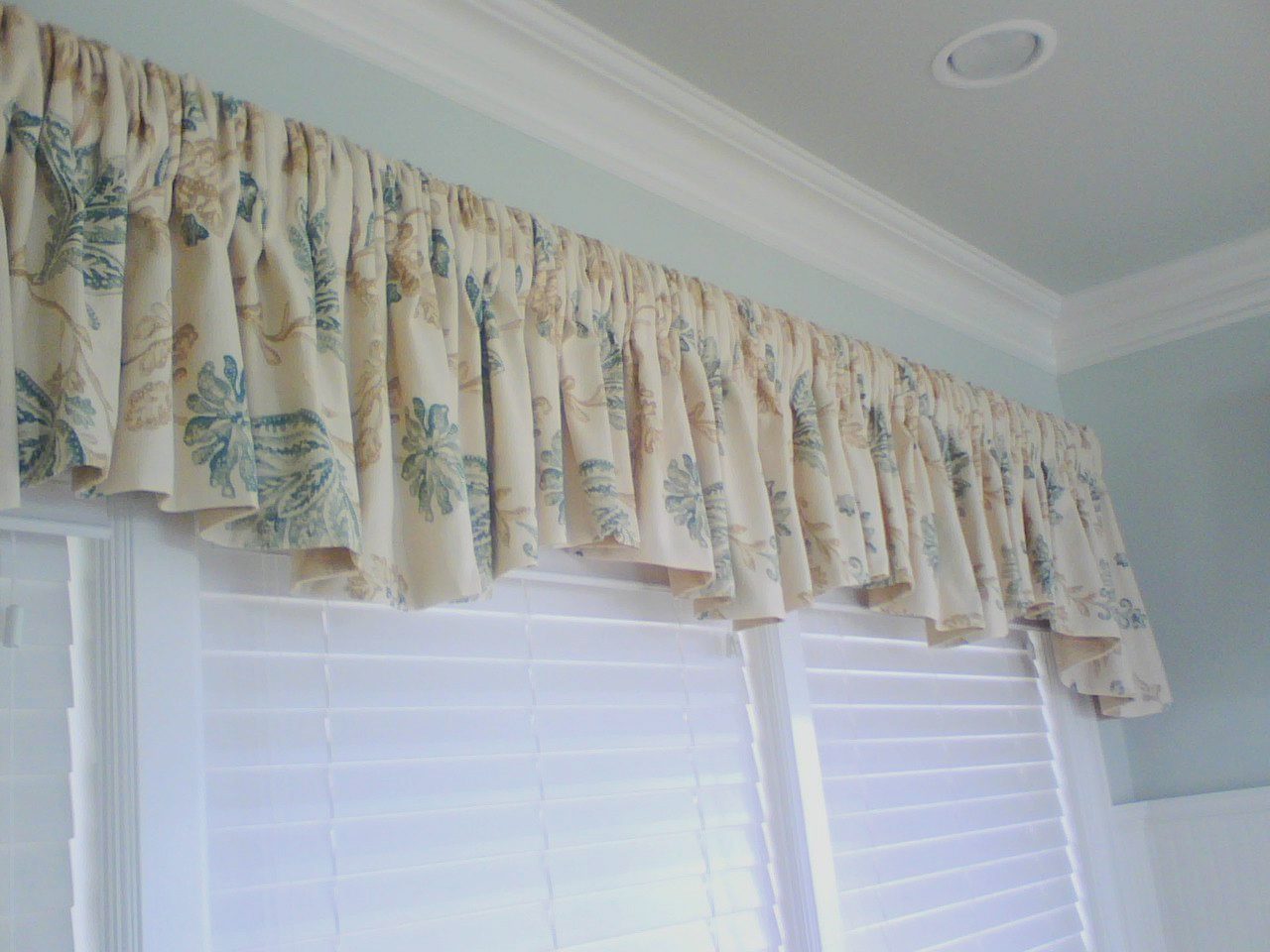 Shirred Rod Pocket Valance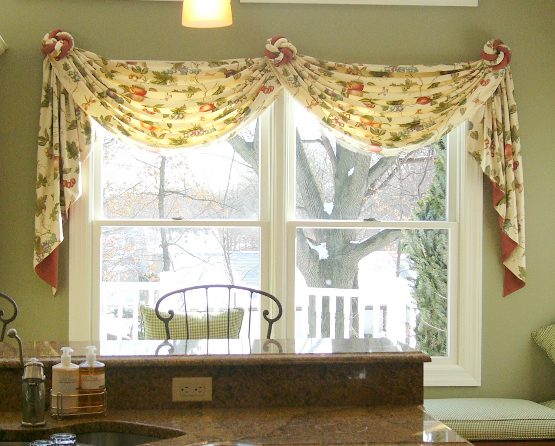 Swags, Knots with Contrast Lined Jabots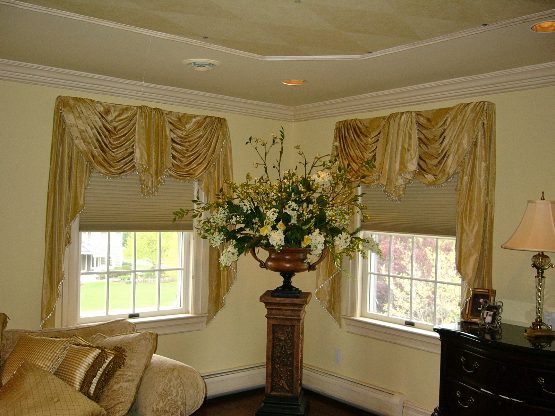 Swags & Jabots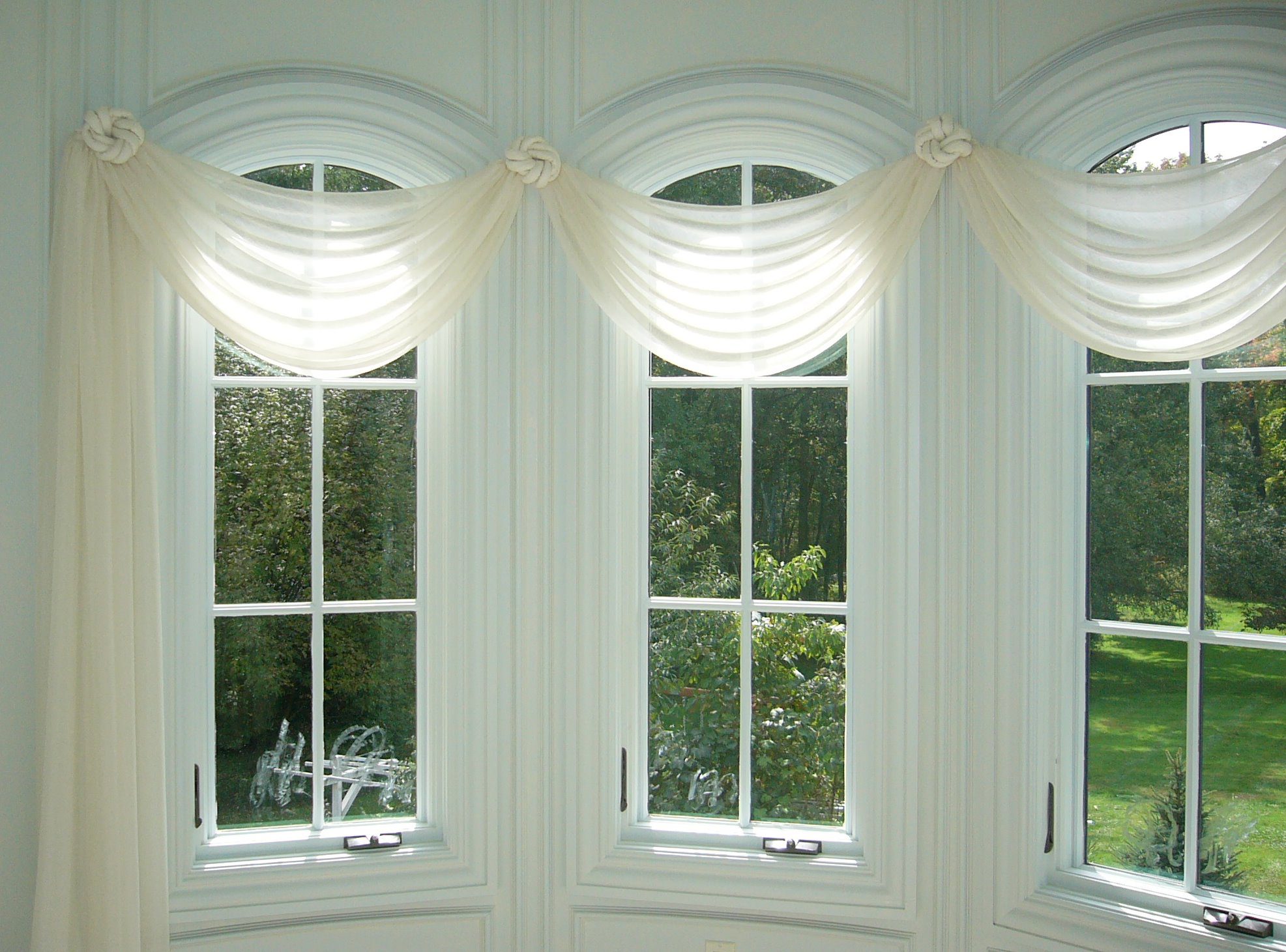 Sheer Swags, Knots, and Panels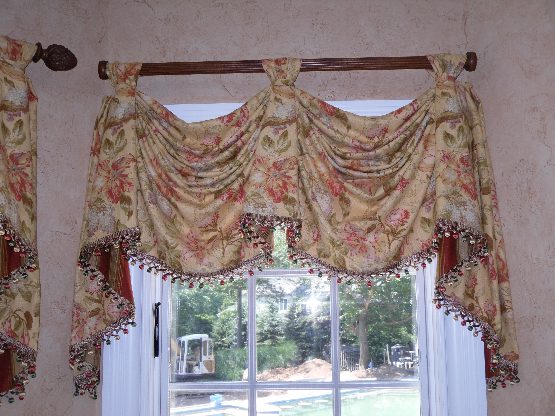 Pole Kingston Valance with Beaded Trim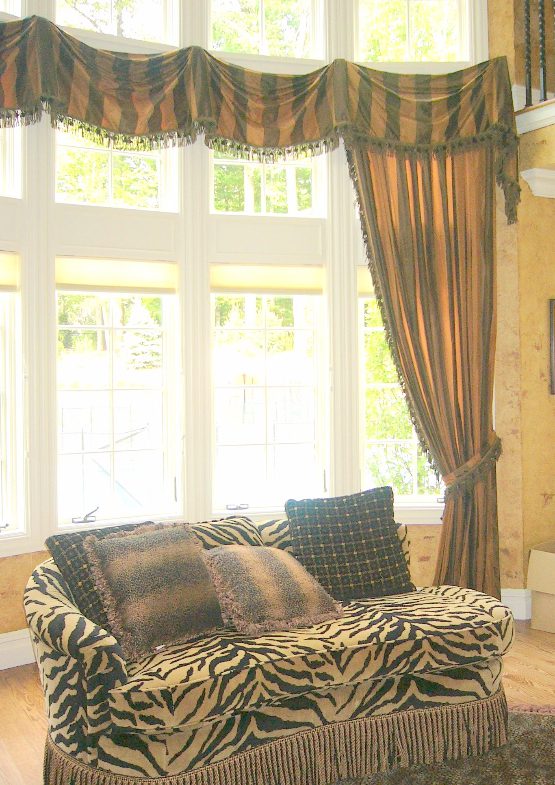 Floating Kingston Valance with Panels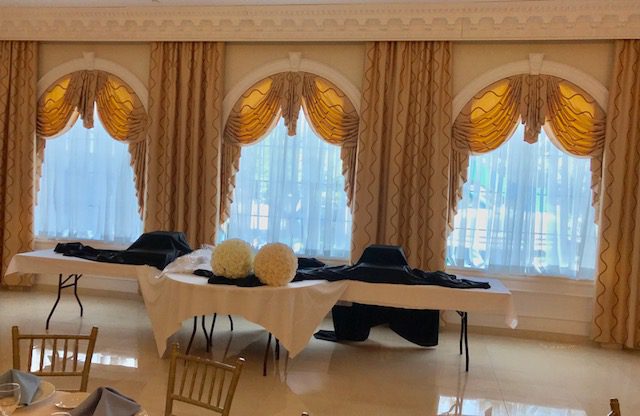 Drapery Panels, Swags & Jabots in Grand Ballroom of Country Club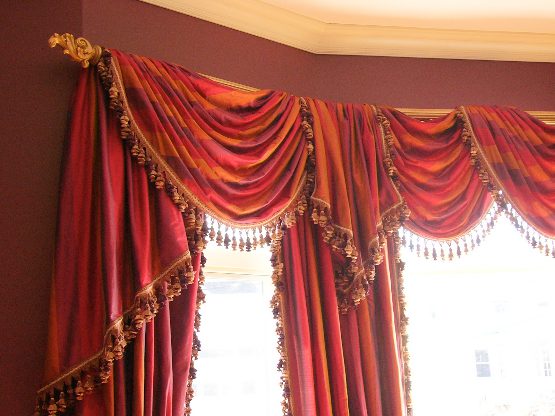 Formal Swags, Jobots, and Panels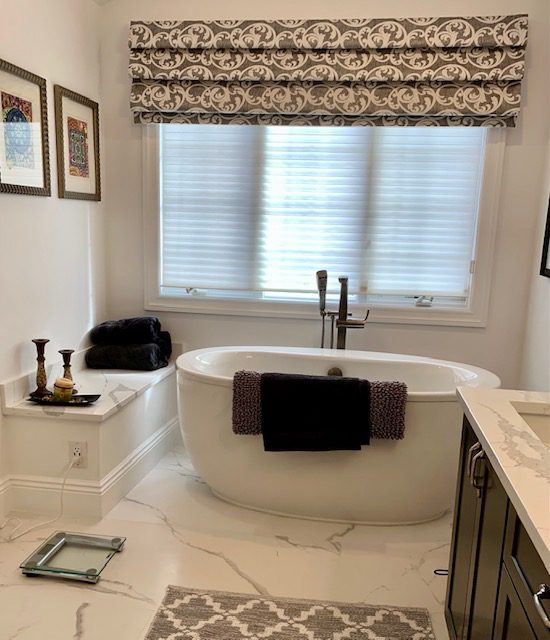 Mock Roman Shade Valance in Master Bathroom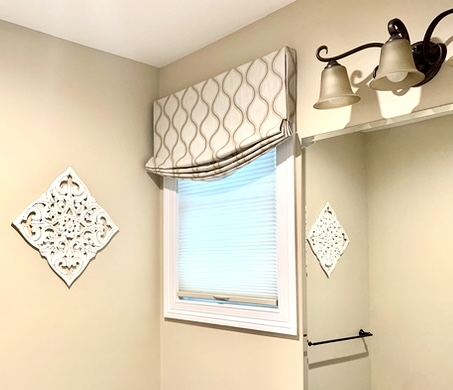 Shaped Bottom Roman Valance in Guest Bathroom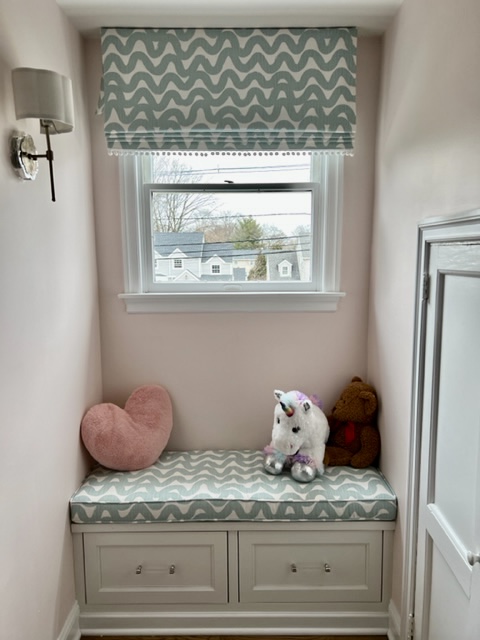 Flat Roman Valance with Pom Pom Trim and Matching Window Seat Cushion in Girl's Bedroom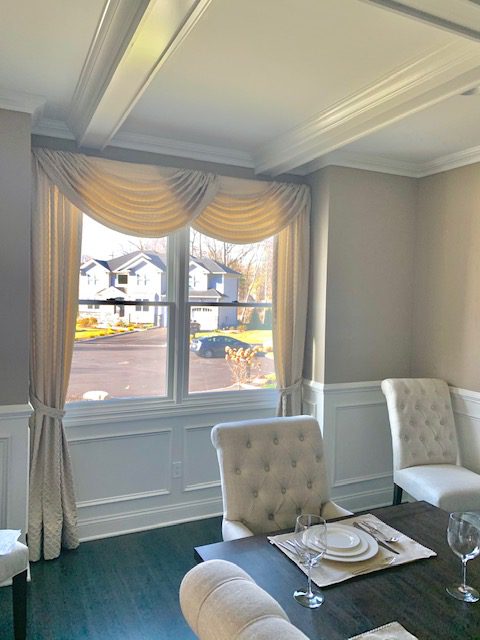 Swags & Drapery Panels with Tie Backs in Dining Room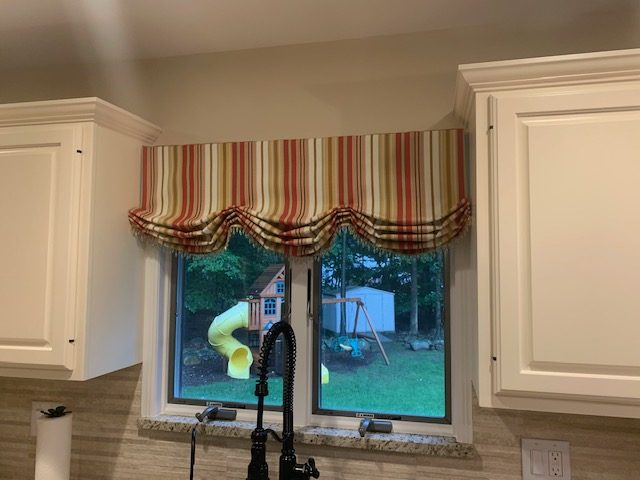 Shaped Bottom Valance with Beaded Trim in Kitchen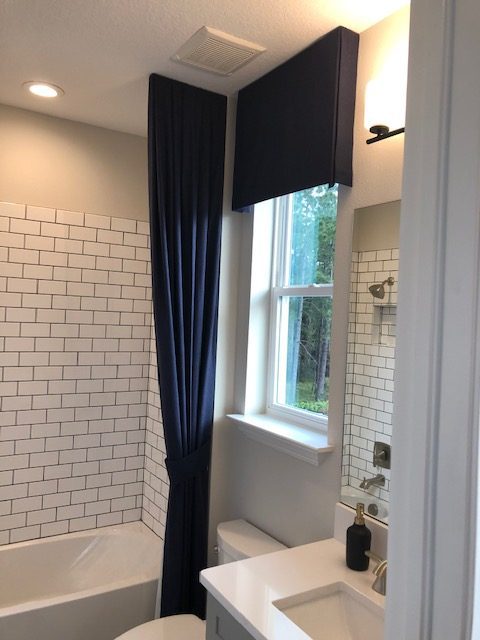 Valance and Panel in Bathroom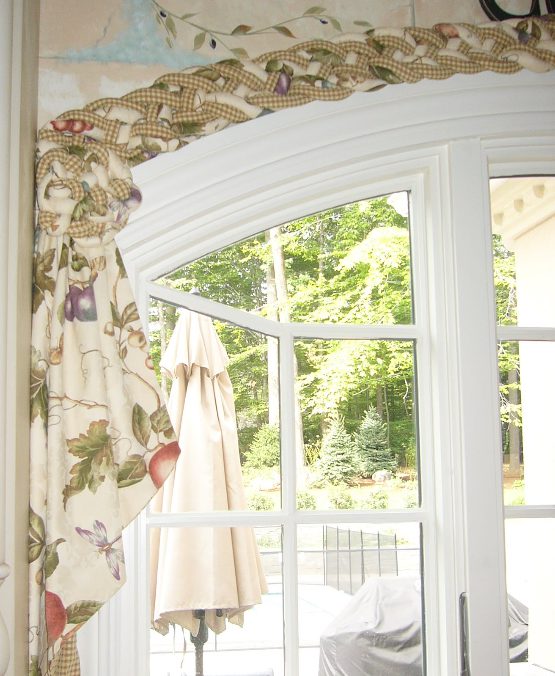 Braided Arch with Knot and Cascade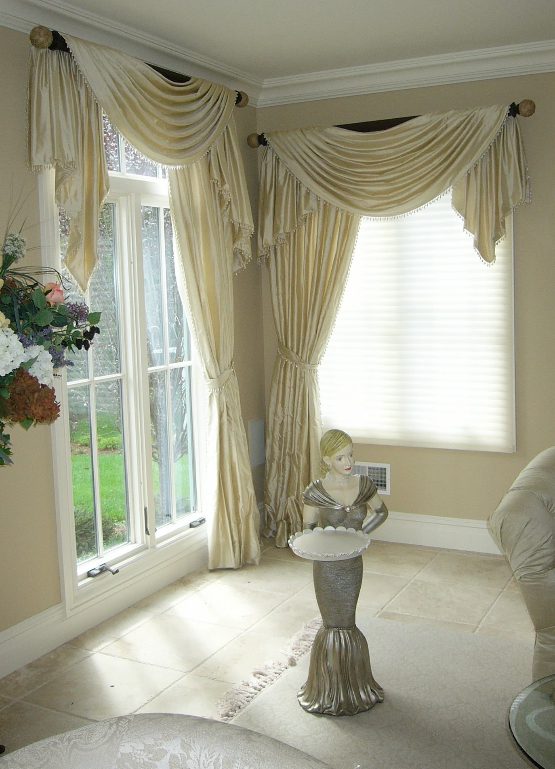 Silk Swags, Jabots, and Panels

Sheer Swags and Panels with Decorative Brackets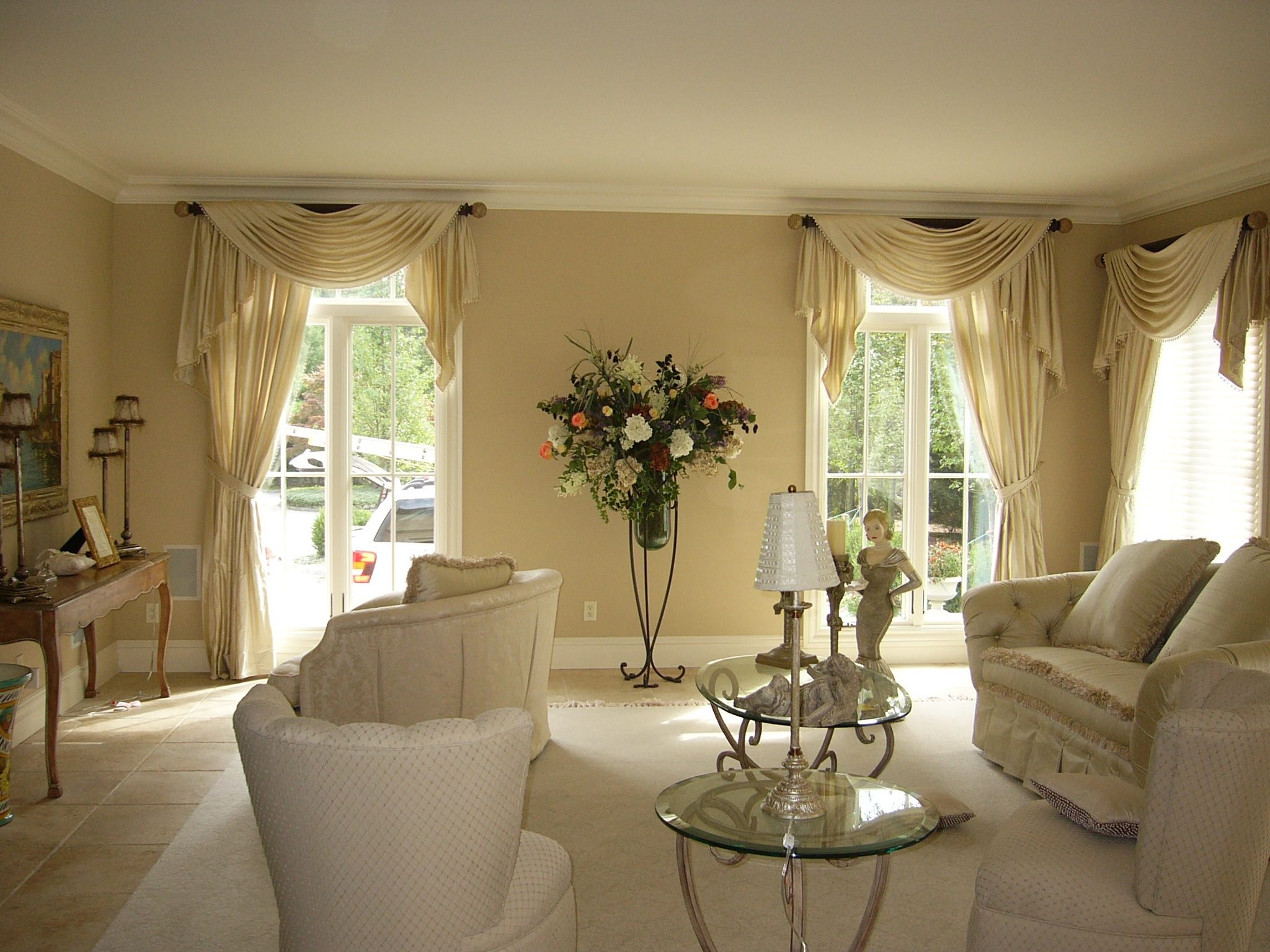 Pole Swags, Jabots, and Panels in Formal Living Room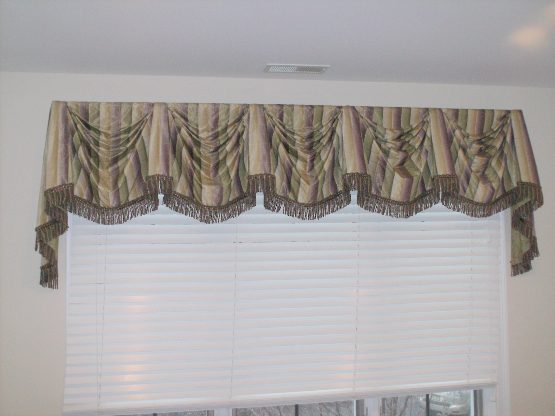 Kingston Valance and Hunter Douglas Silhouette Shade
Free Shop-At-Home Consultation
---
Our Free in-home consultation provides you with the ability to see various fabrics and colors in your own environment.
Nancy works directly with you to design, measure, and professionally install the perfect window treatments for your home or office.
You never have to leave the comfort of your own home or office, we come to you!
We work exclusively by appointment only, please click below to call or schedule your appointment today.
Roman Shade Valance with Navy Blue Double Banding Trim in Kitchen