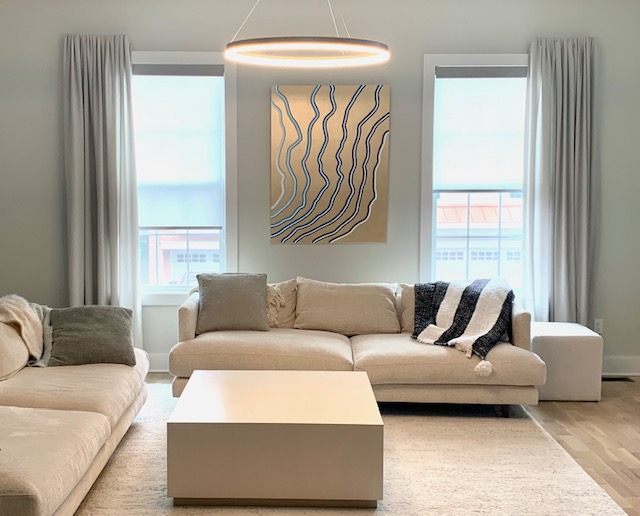 Custom window treatments are central to the character of your home or business and bring elegance and style to any room. We also understand that going through all the phases of a custom window treatment project can be a challenging and daunting task because of the endless design options.
Custom Window Treatments Near You
We are a custom window treatments designer and fabricator from Bergen County, NJ. At Curtains Boutique, we measure, design, fabricate and install your window treatment projects for every room of your home or office.
We offer designer fabrics from premier companies including Kravet, Norbar, Unique, Mitchel, Barrow.
We also carry a full line of Hunter Douglas, Alta Window Fashions, and Norman Window Fashions blinds, shades, shutters, roller shades, sheer shadings, honeycomb cellular shades, woven woods, and motorized window coverings. Let us help you select the right option for your specific needs.
Our talented staff will craft beautiful custom draperies and curtains to achieve what you have in mind and suits best for your room. In addition, we combine colors and patterns to create custom window treatment solutions tailored just for you with the most durable fabrics and trim.
Free Shop-at-Home
service. We'll work with you to create the perfect custom drapes, curtains, cornices, valances, and top treatments by presenting you with a myriad of fabric choices, colors, styles, and textures and provide practical and innovation design solutions for your next custom window treatment project.
Custom Blinds
Custom blinds are an excellent window treatment solution for homeowners looking for durable, long-lasting window coverings that provide light control, insulation, and privacy, without sacrificing the beauty and style of your home's decor.
Whatever type of blinds you're looking for – Wood/Faux Wood Blinds, Cellular Honeycomb Shades, and Vertical Blinds, you can be confident that they will perfectly fit your windows and will be professionally installed.
Custom Drapes
Custom Drapes are a generic term used for decorative fabric mounted on windows. There are two primary types: drapes and curtains. Although the names are used interchangeably, they're not the same.
Curtains are typically made with lighter fabrics and offer an airy and open feel. Drapes generally are made using heavier fabrics backed with a lining. When closed, they offer privacy and a more decorative appearance.
They are great at controlling light without the need for additional window treatments. They also provide a more formal ambiance than curtains.
Benefits of custom window treatments
When selecting custom window treatments, it only makes sense to carefully consider the many benefits of custom over what's commonly referred to as "ready-made".
Customized window treatment is meant to suit specific design needs and preferences. They are available in different types: curtains, blinds, drapes, shades, shutters, and the design options are limitless.
With our extensive fabric collections, combined with available trims, bandings, and drapery hardware, there's no limit to the originality of your custom drapery projects.
Precise Installation. As window sizes vary, the custom drapery design process begins with exact measurements, expert installation, and, ultimately, your total satisfaction.
Personalized style. With custom draperies, it's all about you. When you work with our professional designer, we ensure you end up with the exact look you desire, with no compromises.
Complementary décor. Custom drapery is designed with the whole environment in mind, enhancing and complementing any décor. Drapes and matching accessories in multiple rooms can tie design elements throughout your home. Because of this, they can act as one of the anchoring design elements of your home. Nothing can connect a home's decor quite like beautiful custom windows treatments.
Contact Us for your Window Treatment Inquiries
We look forward to helping you with your window treatment inquiries and requirements. If you're still doubtful, please contact us or give us a call at 201-666-9391 to discuss your needs and find customs solutions tailored just for you.
Free Shop-At-Home Consultation
---
Our Free in-home consultation provides you with the ability to see various fabrics and colors in your own environment.
Nancy works directly with you to design, measure, and professionally install the perfect window treatments for your home or office.
You never have to leave the comfort of your own home or office, we come to you!
We work exclusively by appointment only, please click below to call or schedule your appointment today.