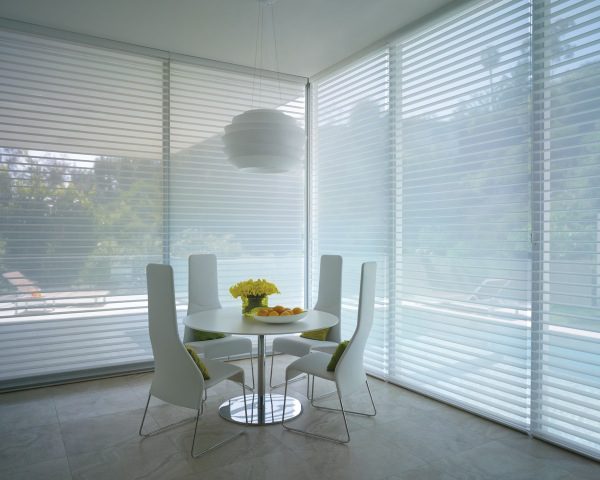 By adding shades, blinds or shutters to your windows, you suddenly have more control over the amount of light entering the room because you can cover the entire window or just part of the window according to your own needs. They also provide you with a level of privacy that you cannot get from many other options. Window blinds come in an endless variety of styles, colors, and patterns, and in a variety of materials allowing you to choose the blind that is most suitable in price, function, and style.
We carry a full line of Hunter Douglas and Norman Window Fashions blinds, shades and shutters. Let us help you select the option that is right for your specific requirements.
Our talented staff will walk you through all the options so together we can decide on the best solution for your needs. Then, let us help you find the perfect window coverings to complement your décor. Blinds, shades, and shutters are a fantastic way to beautify your home.
Read more
Custom Blinds
As Custom Blinds are made to the exact measurements of your windows, they are a perfect fit for your windows. They leave minimal gaps between the frame and the blind fabric. Along with light control, custom blinds also do a better job insulating your room than ready-made blinds, making it harder for outside temperature or sound to penetrate your room, providing energy savings. The ultimate advantage of Custom Blinds is its quality, as they are made of more premium and high-grade materials.
Custom Shades
Both Custom blinds and shades serve the same essential function of privacy, light control, or decoration. However, depending on your specific needs, one may be a better option than the other. For example, blinds are window treatments featuring slats that can be tilted open or closed, while Shades are a single solid window covering made from softer fabrics.
Custom Shades are made to the exact measurements of your windows, so they are a perfect fit for your windows. Shades can also offer insulation in colder weather climates and keep rooms cooler in the summer.
Custom Shutters
Unlike blinds or shades, custom plantation shutters are a long-term design solution that is beautiful, functional, and a smart investment. Along with increasing the value of your home, they reduce energy costs. You can choose between real wood or faux wood (composite), come in a variety of finishes, can be customized for almost any shaped window in your home, and are available in multiple louver sizes. In addition, Custom Shutters are fabricated to the exact specifications of your windows, so you get a perfect fit for every window.
Blinds, Shades, & Shutters – Benefits and Drawbacks
Blinds, shades, and shutters are all window treatments with unique benefits and applications. Therefore, it is essential to consider what you want your window treatment to do before purchasing. Blinds can be raised and lowered to control light and privacy, while shades provide a softer look and feel to the room. Shutters not only give you privacy and light control, but they also add value and beauty to your home.
Each window treatment has its own set of drawbacks, so it's essential to weigh the pros and cons before making a decision. For example, blinds can be dusty and difficult to clean, shades over time don't filter as much sunlight as they're supposed to, and shutters can be more expensive than other options.
At Curtains Boutique, we're here to help you find the perfect window treatment for any and every room of your house or office. Blinds, shades, and shutters can all improve the look of your home while bringing a great return on investment.
Contact Us for your Blind, Shade & Shutter Inquiries
At Curtains Boutique, we look forward to helping you with your Blind, Shade, & Shutter inquiries. Please contact us or give us a call at 201-666-9391 to schedule your no-obligation In-Home Consultation. We look forward to hearing from you!

Free Shop-At-Home Consultation
---
Our Free in-home consultation provides you with the ability to see various fabrics and colors in your own environment.
Nancy works directly with you to design, measure, and professionally install the perfect window treatments for your home or office.
You never have to leave the comfort of your own home or office, we come to you!
We work exclusively by appointment only, please click below to call or schedule your appointment today.